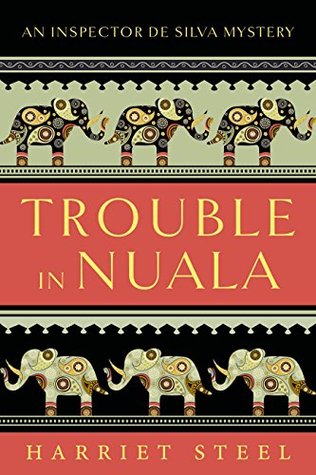 BOOK DESCRIPTION
When Inspector Shanti de Silva moves with his English wife Jane to his new post in the sleepy hill town of Nuala he anticipates a more restful life than police work in the big city entails. However an arrogant plantation owner with a lonely wife, a crusading lawyer, and a death in suspicious circumstances present him with a riddle that he will need all his experience to solve.
Set on the exotic island of Ceylon in the 1930s, Trouble in Nuala is an entertaining and relaxing mystery spiced with humour and a colourful cast of characters.
HERE ARE MY THOUGHTS AND REVIEW
This is such a wonderful look back in time to 1930's Ceylon where Inspector Shanti de Silva would have been happy to deal with life's little in justices in Nuala where he lived with his lovely and wise wife Jane. Set amongst huge plantations they enjoyed rubbing shoulders with the wealthy because of his rank and also having the pleasure of their own servants at home too.  Life was really quite laid back. They thought of themselves as lucky as this was a time when not all mixed marriages were accepted by their families.
When a Lawyer calls upon the Inspector and reports that a worker has gone missing from one of the plantations after receiving an horrendous beating from the plantation owner, with the only trace of him being a blood soaked shirt, the Inspector has to investigate it. What begins as a missing person case soon turns into a suspicious death of  a very wealthy man. Inspector Shanti de Silva has to use all his skills from his days when he worked in the busy town of Colombo if he is going to solve this murder mystery.
This is such a wonderful cosy murder mystery that made me smile such a lot. Times were changing and the British had introduced new alien foods that he didn't really care for. A car, that could reach a speed of 50 mph, not that he would ever push it to that and a wife that would regularly ring her husband to ask about his case.
Just loved Harriet Steel's writing that created wonderful imagery to go along with this, the first story in the Inspector Shanti de Silva series. I very much like Jane whom I feel will be he husband's sounding block for many more future cases.
HERE IS A LITTLE ABOUT THE AUTHOR
Harriet Steel is the author of several historical novels including Becoming Lola and Salvation. Her work has appeared in national newspapers and magazines. She is passionate about history and blogs about it at harrietsteel.blogspot.co.uk
Interview with the Author
Q. There are so many murder mysteries around, what makes Trouble in Nuala stand out?
A. To a great extent its setting in Ceylon, modern-day Sri Lanka, in the days when the island was still a British colony. Then, as now, the island was a fascinating place not just for its wonderful scenery and wildlife but also its mix of peoples who seem to have recovered extraordinarily well from the tragedies of their recent past.
The majority are Sinhalese, who see themselves as the original owners of the island. They are followed by the Tamils who migrated over the centuries from Southern India. Add the legacy of the early Portuguese and Dutch settlers and you have a very rich culture. Although the story sits firmly in the mystery genre, at the time when it's set, colonialism also raised issues that my characters have to deal with and that provides an extra layer of interest.
Q. What's your connection to the country?
A. I've been lucky enough to visit and I fell in love with it straight away. My books are often inspired by my travels and as I'd been planning to write a new detective series for some time, it presented the perfect setting.
Q. The mystery genre is usually very plot driven. When you wrote Trouble in Nuala did the characters or the plot come first?
A. Shanti de Silva was inspired by various people I met on my travels around Sri Lanka and he took shape in my mind early on. He's pragmatic but principled with a mischievous sense of humour; at times impetuous and occasionally a rebel. As my plots develop though, I usually find that characters deepen and that was certainly the case here as Shanti de Silva and the other characters revealed themselves.
Q. So what next?
A. A second Inspector de Silva mystery is already well advanced and you can read a sample at the end of Trouble in Nuala. After that, there are plenty more adventures for de Silva queueing up to be written.
BETWEEN 28TH APRIL AND 2ND MAY THIS BOOK IS FREE TO DOWNLOAD AT AMAZON